The Institute's new guide, a five step approach to considering organisational culture, serves as a useful starting point for a board, or those in executive or senior management positions.
By Níall Fitzgerald
The Business Roundtable is a group of influential CEOs from America's leading companies, and it recently renewed its "statement of purpose". Having spent 22 years following a shareholder-first philosophy, the group has adapted to societal expectations for better business behaviour by expanding its fundamental commitment to deliver value to other stakeholders including customers, employees, suppliers and communities. It is hard to imagine how this commitment will be honoured without changes to organisational culture by the 181 CEOs who pledged to lead their companies for the benefit of all stakeholders.
Closer to home, the UK Corporate Governance Code was revised by the Financial Reporting Council (FRC) in 2018. Its original source from 1992, The Financial Aspects of Corporate Governance (otherwise known as The Cadbury Report), outlined the importance of a principled corporate governance code "for the confidence which needs to exist between business and all those who have a stake in its success". The only stakeholders mentioned in that version, and successive ones, were institutional investors and shareholders. Twenty-six years later, the Code not only refers to "a wide range of stakeholders" but also formalises the board's role in aligning an organisation's culture with its purpose (vision), values and strategy (mission).
Reflecting this trend, investors and business analysts are ramping up their cultural assessments of organisations. A study conducted in 2015 by global culture organisation, Walking the Talk, with Stamford Associates in the UK, revealed that 94% of investment managers based mainly in the United States (US) and UK include culture as an important consideration in their investment decisions.
In January 2019, State Street Capital, one of the world's largest asset managers, wrote to the chairs of more than 1,100 organisations in the S&P 500, FTSE 350 and similar organisations in France, Germany, Australia and Japan, calling on them to review their culture and explain its alignment with their strategy. Investors are voting with their feet, which was evidenced by the dramatic fall in Barclays' share price in 2017 following CEO Jes Staley's attempt to identify an internal confidential whistleblower, which went against the organisation's espoused values and culture.
Institutional investors are also taking a more active role in driving change by making their expectations clear – not just around the rate of returns, but also on the organisational culture they wish to align with. The Japanese Government Pension Investment Fund (GPIF), one of the largest pension funds in the world, implements an environmental, social and governance (ESG) investment decision-making methodology. This methodology considers factors such as the quality of a company's culture as well as management, risk profile and other characteristics. They are not alone, with many other institutional investors following a similar approach.
In producing Chartered Accountants Ireland's Concise Guide for Directors: A Five-Step Approach to Considering Organisational Culture, we identified a consensus that organisational culture plays an increasingly important role in influencing behaviours in an organisation. Given the importance of organisational culture, several questions were raised during the production process. Four of the most common are outlined below:
1. Who is responsible for organisational culture?
The board has overall responsibility for ensuring that an organisation's vision, mission and values are aligned with the culture of the organisation. In the same way the board is responsible for approving the strategy of the organisation, it is also responsible for agreeing on what the target culture of the organisation (i.e. the culture the organisation should aspire to) should be. Each member of the board, executive or non-executive, has a responsibility to lead by example and promote the target culture; this involves ensuring that adequate time is allowed on the board agenda for discussions on organisational culture.
2. Who influences organisational culture?
It depends. This is where the phrases "the tone at the top" and the "echo from the bottom" comes into play. Unlike strategy, culture is an organic and fluid ecosystem, and while a target culture will be agreed by the board, the process of shaping and realising it is gradual. It involves leadership from the top of the organisation (top-down) and engagement from the bottom of the organisation (bottom-up). Who has the greater influence in shaping organisational culture will differ from one organisation to the next. For example, it may be the director(s) in a small owner-managed family business, the CEO in a multinational, the founder in a not-for-profit organisation or the legacy staff in a government department.
It isn't just internal people or politics that influences the target culture. It will be influenced by many other internal and external factors including, but not limited to, regulatory landscape; political environment; social norms; trade union participation; the history of the organisation; leadership capability within the organisation; level of ambition of people to lead change; common values shared across the organisation; and both internal and external drivers of change (e.g. digitalisation). The organisation's culture ultimately influences and shapes the interactions with all stakeholders.
3. What are the best organisational culture traits to have?
There is no one-size-fits-all. What works for one organisation may not work for another in a different stage of development or in a different sector. The objective is to determine common cultural traits that can be embedded across the entire organisation, while recognising and accepting that sub-cultures also exist. For example, larger organisations may have subcultures in different geographies or in various departments or business units.
To be effective, cultural traits should be realistic and counterbalanced. Promoting a culture of collaboration and collective responsibility, for example, should be balanced with ensuring that people are individually accountable for their contributions and actions. It is also important to acknowledge that organisational culture is dynamic; it is constantly changing in response to internal and external influences.
Culture risks exist, like any other risk, and organisations will need to manage accordingly. Mitigation measures include ongoing communication and reinforcement of the organisation's core values and behaviours, combined with risk-based culture audits or reviews. Internal controls with early warning systems are useful for alerting management to behavioural changes that can negatively impact culture – for example, where a production line debriefing identifies that downtime is being recovered by taking shortcuts to stay on schedule.
4. Where do I start when considering organisational culture?
The five-step approach to considering organisational culture is presented in Figure 1. This approach serves as a useful starting point for a board, or those in executive or senior management positions, to consider organisational culture. It is designed to work in tandem with the vast reservoir of tools and methodologies for assessing, defining and shaping organisational culture. The steps can be summarised as follows:
Assess current culture: every journey has a starting point and it is important to understand the current culture of the organisation before agreeing the path forward.
Evaluate effectiveness: determine what works well with the current culture, and what doesn't. Are there opportunities for quick, positive change for better business behaviour? And what will require more effort?
Define/refine target culture: what influences the organisation's target culture? And does it clearly align with the business purpose (vision) and values?
Identify gaps: identify, prioritise, risk-rate and cost the gaps between the target culture and the current culture in order to inform the organisation's cultural change programme; and
Close gaps: prepare the change programme to shape the organisation's culture. Throughout the journey, it is important to communicate the changes, evaluate whether the implemented changes are having the desired effect, and reinforce the reasons for change and how they align with the organisation's vision, mission and values.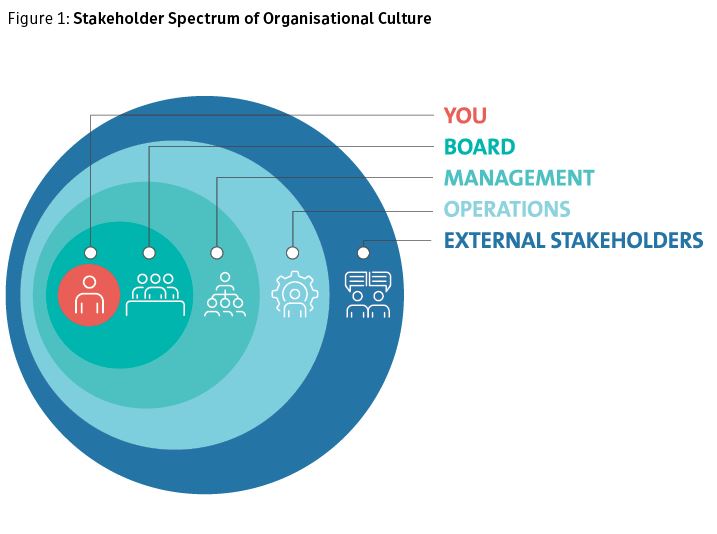 Organisations are investing more in getting their culture right. The various roles that Chartered Accountants play within organisations involve a level of influence in assessing, defining and shaping organisational culture. While this influence may not seem obvious at first, it becomes more apparent when you consider that many Chartered Accountants hold positions that provide a strategic, overarching view of what is happening in their business unit or across their organisation. By applying their analytical and reporting skills, Chartered Accountants can use their access to information and insights, as well as their opportunities to observe behaviours across the organisation, to significantly support the development of a healthy culture.
Whatever role you play within an organisation, consider how you can positively influence and shape a healthy organisational culture.
The Concise Guide for Directors: A Five-Step Approach to Considering Organisational Culture is available to download from Chartered Accountants Ireland's Governance Resource Centre.
Níall Fitzgerald ACA is Head of Ethics and Governance at Chartered Accountants Ireland.
This article was originally published in the October 2019 issue of Accountancy Ireland.